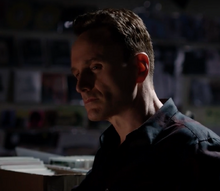 Robin Spriggs plays
The Ghost
on
Powers
and Harley on The CW's
Containment.
He has also appeared as Captain Franco on NBC's
Revolution
, as Chris Amante on USA Network's
Necessary Roughness,
and as Alfonse in the rural noir
Sinkhole.
He is the author of
The Untold Tales of Ozman Droom, Diary of a Gentleman Diabolist, Wondrous Strange: Tales of the Uncanny, The Dracula Poems,
and
Capes & Cowls: Adventures in Wyrd City.